Puppy Training is a Key Step
To create a solid base in your dog's life, puppy training is the key. If done properly, it will make future training easier and more successful.
One of the first questions that most new owners ask when they get their new puppy is about training, more specifically what training and when.
It is very important to begin with puppy training from day 1. If you have purchased your puppy from a breeder who invested lots of time socializing the litter, you are lucky enough to have the work already started for you and will be working with an animal that has great potential. But even if you don't know how well your puppy's socialization has been so far, don't worry; there is a lot that you can do starting now.

To make the process easier for you I have divided this subject into a few different groups and pages and they are:
Puppy Development & Socialization
Puppy Potty Training (house training/breaking)

As mentioned, puppy training begins from day one. Most people think of training as obedience training or some type of school,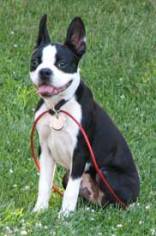 and many of them simply conclude that their puppy is too young for that and they think that once he is old enough he will get appropriate training.
This is the biggest mistake and biggest 'punishment' that you can do to your puppy. If you want to think about this situation from a human point of view, think about a child; it would be wrong not to teach our kids anything until they are old enough for school, right? In fact training your puppy basics like potty training, housebreaking or house rules are steps that are necessary for normal function for both you and your new companion.

Who is Training Who?
Having a puppy is about having time and patience. If you don't actively participate in your puppy's training, your puppy will train on his own. Any dog, especially a young one has to create certain behaviors to respond to his environment, and if not properly trained, those behaviors may become big issues once the puppy grows up. I know of many grown up dogs that still have housebreaking or chewing issues because these things were never addressed in the first place.
Remember, you will need much more effort after the dog has grown up, in order to change an already established behavior than it would take you if you act and train your dog while he is still a puppy to shape those behaviors from the beginning. Time can't turn back and dogs leave puppyhood fast. Every day that you miss out will count.
Is Your Puppy Too Young?
If you still think that your puppy is too young let me show you a comparison that points out differences between the ages and training procedures for most service dogs compared to our family pets.
4 Month Old Puppy
Family Pets: playing, getting familiar with their environment, some puppies start taking puppy classes
Service Dogs: by this age, puppies are being introduced to tracks, trails and working trials
6 Month Old Puppy
Family Pets: some puppies are just joining/beginning puppy classes, some of them are starting basic obedience training
Service Dogs: more advanced trail training, the puppies are adapting to more demanding landscapes, and have begun biting training. They are by now, also beginning to work with trial helpers. They are learning to bark at and follow the helper while on a leash, etc. (depending on the specific dog service that they are training for).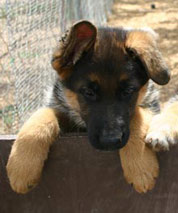 Even at such a young age you can see a huge difference in the approach to puppy training.
This comparison is just so that you can understand that puppies are capable of learning even though they are young (if training is introduced properly, of course).
Advanced puppy training will be available on this site later on, but for now we can start with some basic training, highlighted in the links below. And don't forget the importance of properly socializing your dog. This is, in fact, one of the most important steps in any dog's life.


Puppy Development & Socialization
Puppy Potty Training (house training/breaking)
---