Ready for a Trip to the Dog Shelter?
A visit to the local dog shelter or rescue can be harder than you think. It is easy to make a mistake, so to avoid that you can follow these simple steps. Because many people don't prepare themselves ahead of time, they end up choosing a dog based on a split-second decision, which down the road, may backfire.
Visiting a shelter or a dog rescue is an emotional trip, every animal there is waiting to be adopted and you know what will likely happen to them, in most cases, if they aren't. This
is a really difficult and emotional trip. As much as you want to save them all, that is impossible.
Your goal is to get a dog that will match as close as possible to you and to the description that you've created based on your answers to why you want to get a dog. Remember, you will still end up saving a dog, but by following the right steps you will be choosing a dog that will change both of your lives for the better.
If you have chosen to adopt a purebred, a great place to start looking is at a dog rescue for that specific breed. There are many of them throughout the world and you can easily locate your nearest breed-specific rescue online, through a local vet, or you can contact your local dog-breed clubs, for more information. And don't forget your local dog shelter; you would be surprised at the number of purebred dogs that you can find there.
Whichever breed or mixed-breed you decide upon, if you have decided to save one of these beautiful animals by adopting from a shelter or rescue…congratulations, and since you have now decided to make this rewarding gesture, it is well worth doing it right. So to help you and your family find the best match possible and to help make the transition a successful one for both you and your new dog, below you will find the steps to follow when making the trip to the shelter or rescue.

The first step should be to take a notepad and make a list.

List of all the reasons why you want the dog and how that dog should look and behave based on his future life and responsibilities (dog size, purpose, coat etc.)

Allow yourself plenty of time.

Do not arrive at the dog shelter just at the time when they are closing. It's also a good idea to make a second visit. You need time to make the right decision. If you are not sure or can't find a dog that you are satisfied with, visit another dog shelter and check there. Remember, you will spend years with this dog, so it is important to make the right choice.

From the moment that you arrive, try controlling your emotions.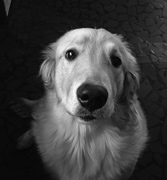 Trust me; you will be overwhelmed seeing those dogs. Now take your notepad to remind yourself of what you are looking for and start searching. When you see a dog that matches the description, note it and continue. Once you are done and you have noted all the possible candidates, go back again to the beginning of the list and check each dog one by one that you have chosen. It is time to spend some more time with each of them.

Take the dog for a walk to see how you and your family bond with that dog.

If possible, expose the dog to another dog in order to see the behavior and body language. Try some of the most common scenarios like have a person running by, or try playing fetch. Again, watch for the dog's behavior and reaction.


Once you find your perfect match, the right fit for you and your family, you can proceed with adopting the dog!


---
Return from Dog Shelter to Dog Adoption

Return from Dog Shelter to Training Your Dog and You
---