About the Author: Mario Ancic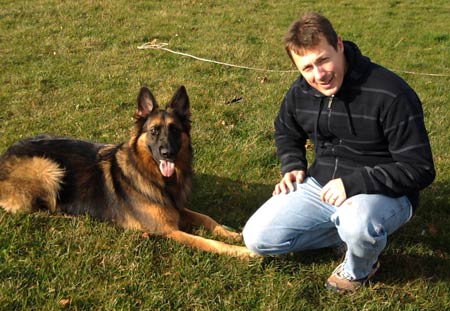 Mario Ancic is a former military and police dog trainer with over 20 years of experience in working with dogs trained for various different skills.

Although he grew up surrounded by family dogs, it wasn't until he was 13 years old that his story started. His passion and first serious contacts with dog training and dog sports can be attributed to a neighbor, who owned a kennel and was involved in protection dog sports. Mario became a helper and from that point on, his future was shaped. By the age of 15 he was training dogs on his own.
"It was at that point that I realized that dog training is a challenging task and that it would take a long time before I would master it. However, more than anything, I was fascinated with the new discovery I had made; the ability to communicate with another species."
Joining the military was his first professional step in dog training. During his career in the military he received his certifications in animal behaviorism and dog training; and trained dogs to suit different tasks such as personal protection, detection dogs (drugs, explosives & landmines), search and rescue, border patrol dogs, etc.
Mario was contracted and certified by three different governments in Europe where he worked in improving the training methods as well as training other trainers for military, police and private security agencies.
His passion and knowledge for dogs led him to more than two dozen dog training seminars, workshops and dog training schools worldwide with some of the top dog and animal professionals, such as; Karen Pryor, Bob Bailey, Dr. Ian Dunbar, Dr. Patricia McConnell, Ivan Balabanov and many others. He has also participated in five separately conducted researches on dogs and dog behavior development.
In dog sports, Mario secured two national, first place finishes in police K9 and military standard competitions.
After retiring from the military, Mario pursued his career in helping dog trainers and competitors achieve more potential from their dogs. He also worked with veterinary clinics and kennels offering behavioral consultation services, and directed his attention towards helping pet dog owners deal with various issues that they face with their dogs in their daily life.
In addition to leading classes and delivering seminars on a broad spectrum of behavior and training related topics, he focuses on offering consultation services where he creates customized success plans for each individual dog and their respective owners.
"A goal of mine is to share the knowledge and passion that I have for communicating with this magnificent species and to increase awareness and understanding between people and their dogs. Creating the Training Your Dog and You website is one way of gathering my many years of experience in one place so that people can access, learn and ask questions. As a result, if you learn something new; or you find a way to solve issues with your dog, and most importantly, if you can improve the relationship between you and your dog, and set him/her up for success, my mission is fulfilled".

---
Return from About the Author to Training Your Dog and You